From 31 December 2018, large commercial seagoing vessels flying the flag of an EU Member State may be recycled only in safe and sound ship recycling facilities included in the European List of ship recycling facilities, in order to comply with the EU Ship Recycling Regulation (SRR). The List was first established on 19 December 2016 and updated in May 2018. As of May 2018, the list included 21 shipyards all located in the EU, only show a capacity of scrapping facilities of just 300,000 LDT*, which the shipping industry considers to be insufficient based on demand estimates.
Limited ship recycling facilities on the EU Ship Recycling Regulation list
Although nothing officially bars any non-EU country from gaining approval, at the moment all 21 shipyards on the list are in the EU and none have experience of breaking large commercial vessels. Moreover, these shipyards do more than breaking ships, limiting even more the breaking capacity.
China ban on recycle ships
China announced in April 2018 to stop importing recycle ships, as part of a drive to reduce pollution and waste, means the closure of some of the best recycling facilities in the world that match the Hong Kong Convention and the EU ship recycling regulation requirements. Since the IMO started to discuss Ship Recycling regulations, a number of Chinese ship recycling facilities have upgraded and invested in their facilities enormously. This made these yards the first in the world to recycle ships at the highest standards available on Health, Safety and Environment.
Indian sub-continent to modernize
Moreover, India, Pakistan, and Bangladesh together recycle over 90% of the tonnage, but many obstacles hinder India, Pakistan, and Bangladesh from becoming parties to the Convention, as their national legislations have not been implemented in a manner that would ensure both environmental and socio-economic sustainability of the industry by tackling the poor condition of current beach scrapping processes.
Five Indian yards that are already being considered for EU inclusion would add 323,000 LDT of annual capacity, while four others recently applying would potentially contribute a further 300,000 LDT.
The EU must step up its assessment of these yards and ensure that acceptable conditions exist to allow the effective implementation of the Hong Kong Convention.
Scrapping demand is set to rise
Despite the more stringent scrapping policies, the number of vessels scrapped is expected to rise dramatically in 2019. As regulations for ballast water and emissions limits push more vessels out of the market, an increasing number of sub 20-year old vessels will be removed.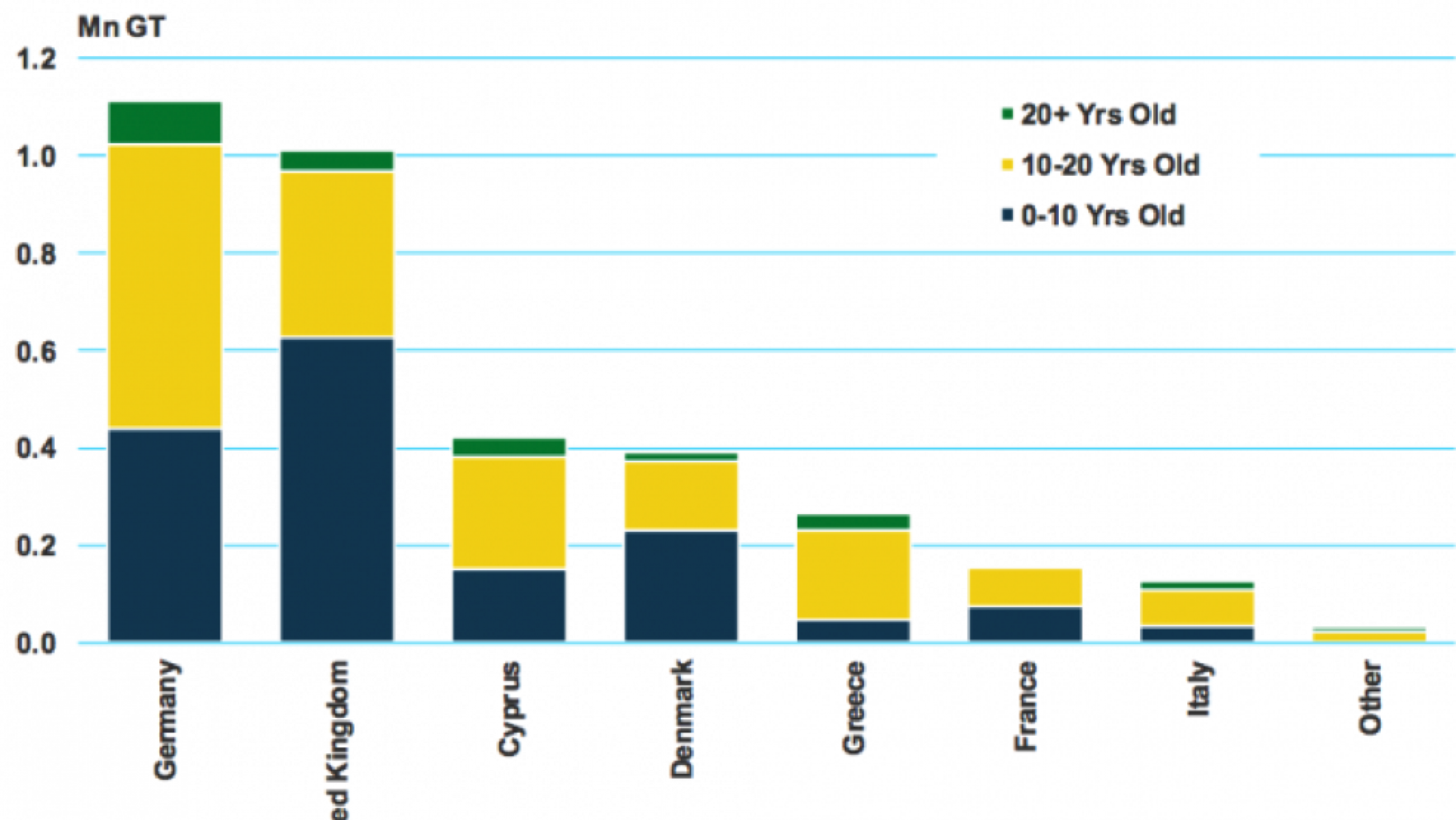 To put the situation in context, three quarters of the 200+ ships scrapped in Q1 2018 headed to the Indian sub-continent. Accordingly, the solution must be found there. Progress is being made at Indian yards with a number applying to recycle European-flag ships, though concerns remain over subcontractor standards.
There is still a long way to go before Indian and South Asian countries will be part of the EU's list of accepted ship recycling facilities, but a partnership between Maersk and a scrapping facility at Alang in India suggests a way forward.
Maersk has been keen to promote the investment made in improving conditions, safety and environmental impact of the facility, which it now believes is on a par with Chinese and Turkish scrappers. If the facility in Alang is not approved by the EU, Maersk may find itself testing the boundaries of legislation, as much of its fleet sails under a Danish flag.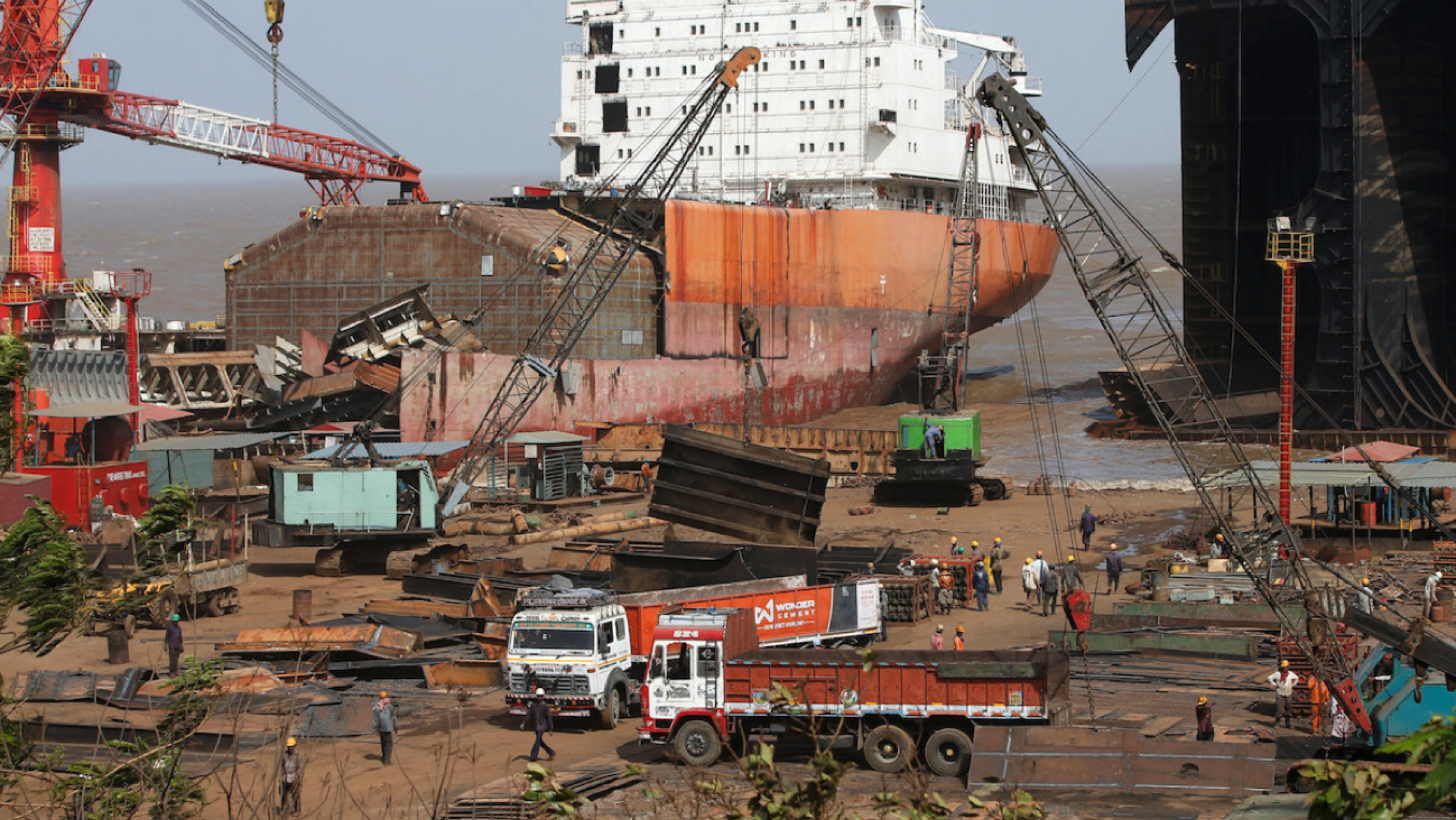 Workers sort out metal scrap of a decommissioned ship at the Alang shipyard in the western state of Gujarat, India, May 29, 2018. Source: REUTERS/Amit Dave
The European Community Shipowners' Association (ECSA) stated recently statement welcoming the European Commission's current inspections of facilities for consideration of inclusion on the list. It also encouraged the EC to include non-EU facilities, such as ones India that are found to be compliant with the requirements, to be included.
*Light displacement tonnage (LDT) is defined as the weight of the ship excluding cargo, fuel, water, ballast, stores, passengers, crew, but with water in boilers to steaming level.
Comments on beaching of ships, by Guido Van Meel, Secretary General of Euroshore (Statements reflects only author's opinion)
There is still a long way to go before some Asian shipbreaking countries, such as Bangladesh, Pakistan and India, will be accepted onto the EU's list of ship recycling facilities, seen the need to tackle the poor condition of current beach scrapping processes. Beaching of ships in order to dismantle a vessel in an environmental way is certainly not an easy undertaking.
Problem of ballast water, sediments and TBT-paint
A ship on its last voyage arrives at the landing beach with ballast water and sediments in its ballast tanks. It will also have most types of waste on board (bilgewater, sludge, cargo residues).
How to handle these types of waste? Removal of large volumes of liquid waste on a beach is not so easy. In order to remove 10,000 m3 of ballast water, a mobile treatment unit, at least IMO approved, is needed.
What about the sediments? Experts guess that sedimentation will increase with 1 cm/year. For a Panamax vessel, it would mean several hundred tons of sediments, containing more than 60% of water, necessitating adequate equipment. Moreover, such sediment disposal needs a landfill for hazardous waste or an adequate treatment facility.
Another issue is the potential presence of anti-fouling on the ship's hull or the presence of the toxic TBT-paint.
Caution needed
It seems to me that all these types of hazardous waste can only be removed in an environmentally friendly way by using a dry dock, allowing a ship to be lifted out of the water and enabling all residues to be removed in an environmental sound manner.
These arguments make me conclude the certification of companies using the beaching method should be investigated with the greatest care.
In Europe we have a more advanced perception of labour safety and environmental standards as compared to South East Asia. We also have many idle shipyards and drydocks used for shipbuilding in the past before unfair Far East competition urged them to close shop. When a market for environmental scrapping of ships would be created in Europe, today impossible due to the competition by substandard facilities, it would generate several thousands of jobs.
Illustration photo source: Marisis.com