744 large ocean-going commercial vessels were sold to scrap yards in 2018, according to data released end of January 2019 by the NGO Shipbreaking Platform. 518 were broken down on tidal mudflats in Bangladesh, India, and Pakistan, amounting to a record-breaking 90,4% of the gross tonnage dismantled globally. The question is, do we talk sustainable beaching practices?
The key facts
Record-breaking 90% of end-of-life tonnage scrapped on South Asian beaches (India, Bangladesh, Pakistan) in 2018.
The United Arab Emirates, Greece and the United States top the list of country dumpers with UAE owners responsible for the highest absolute number of ships sold.
At least 34 workers lost their lives and 39 workers were severely injured when breaking apart the global fleet.
Workers risk their lives, suffer from exposure to toxins, and coastal ecosystems are devastated.
With the downturn in the oil and gas sector, there has been an increase in offshore units that have gone for scrap.
Ship owners are facing pressure from investors, credit providers and legal bodies to use better recycling techniques.
"The 2018 figures are shocking. The harm caused by beaching is real. No shipowner can claim to be unaware of the dire conditions at beaching yards, still, they massively continue to sell their vessels to the worst yards to get the highest price for their ships. Ship owners have a responsibility to sell to recycling yards that invest in their workers and the environment," says Ingvild Jenssen, Founder and executive director of the ngo Shipbreaking Platform.
Worst 2018 dumping practices
The UAE, Greece and the US are worst in class country dumpers in 2018. UAE owners were responsible for the highest absolute number of ships sold to South Asian shipbreaking yards with 61 ships. Greek owners beached 57 vessels out of a total of 66 sold for demolition. American owners closely followed with 53 end-of-life vessels broken up.
The 'worst corporate dumper' prize goes to the South Korean liner Sinokor Merchant Marine. The loss-making company and about to merge its container operations with Heung-A, sold 11 ships for breaking on the beaches in Bangladesh and India.
Other shipping companies that sold their vessels for the highest price to the worst breaking yards include Chevron, Costamare, H-Line, Louis plc, Seabulk, Sovcomflot, Teekay, Zodiac Group and CMB.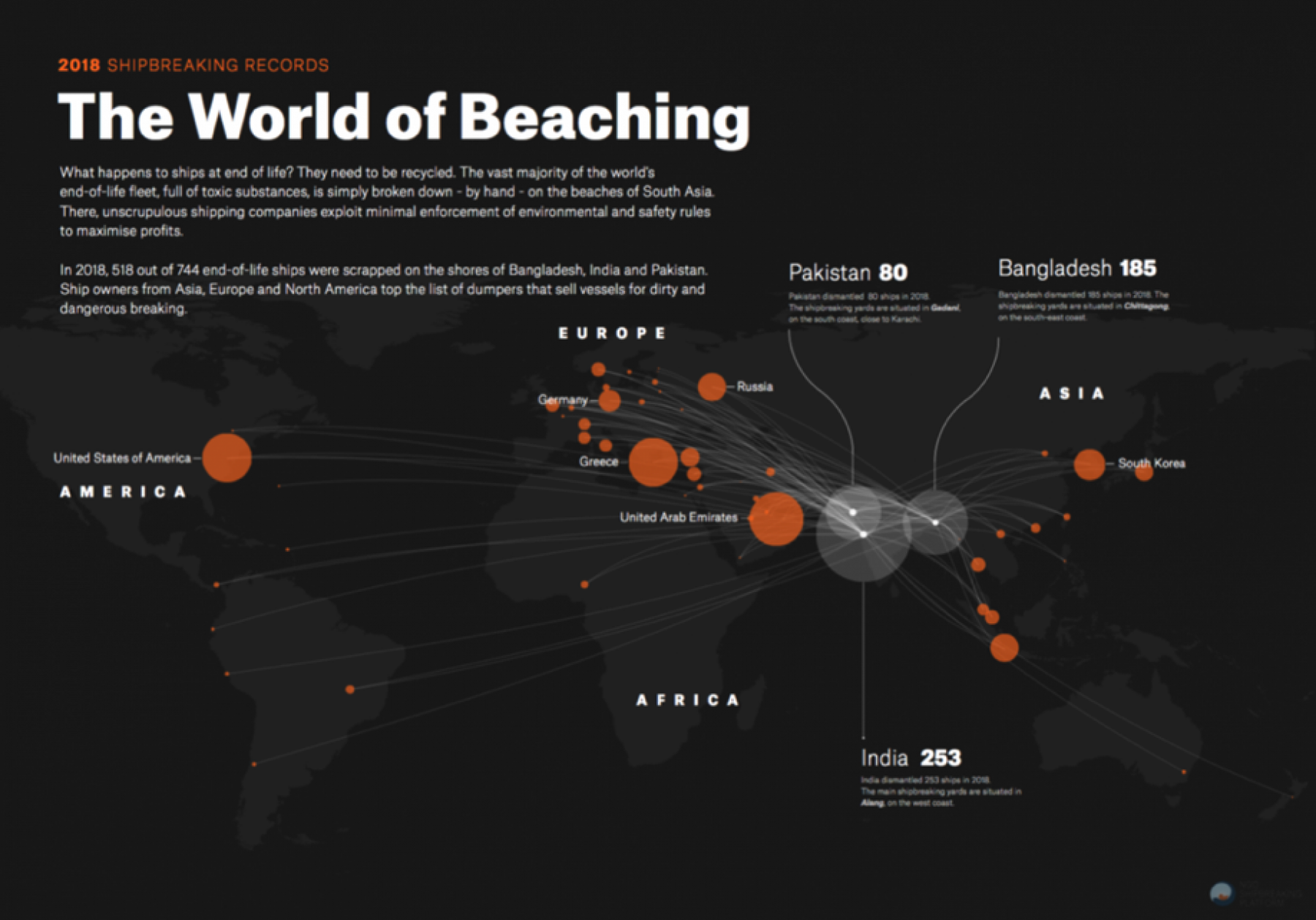 Image credit: Shipbreaking platform.
Pressure for critical stakeholders for better ship recycling practices and Liabilities issues
Ship owners are facing increased pressure from investors and credit providers to stop selling their ships to beaching yards for dirty and dangerous scrapping.
The Norwegian pension fund KLP blacklisted Norwegian Nordic American Tankers (NAT) – incorporated in Bermuda and stock-listed in New York, having reported to have earned USD 80 million for the sale of 8 vessels for breaking, sold to yards in Bangladesh with particularly poor track records and some even working without authorization.
In early 2018, Scandinavian pension funds KLP and GPFG were the first to divest from 4 shipping companies due to their beaching practices.
Today, banks, pension funds, and other financial institutions are actively taking a closer look at how they might contribute to a shift towards better ship recycling practices off the beach, taking into account social and environmental criteria, not just financial returns, when selecting asset values or clients.
Losing financing and clients should not be the only concern of ship owners who continue to use dirty and dangerous scrap yards. In 2018, and for the first time ever, a shipowner was held criminally liable for having illegally traded 4 end-of-life ships to Indian beaching yards. Several other cases of illegal traffic are under investigation, such as, the Belgian CMB for exporting the 'Mineral Water' to Bangladesh in 2016. These cases focus not only on the liability of the shipowner but also on the responsibility of insurers, brokers and maritime warranty surveyors. By unravelling the murky practices of shipbreaking, which involve the use of middlemen, or cash buyers, and flags of convenience such as Comoros, Palau, and St. Kitts & Nevis, these cases highlight the importance of conducting due diligence when choosing business partners.
Better ship recycling practices are available
The ngo Shipbreaking Platform states that clean and safe solutions are available. Responsible ship owners, such as Dutch Boskalis, German Hapag Lloyd, and Scandinavian companies Wallenius-Wilhelmsen and Grieg, recycle their vessels off the beach. The EU maintains a list of clean and safe ship recycling facilities around the world that comply with high standards for environmental protection and workers' safety. The EU list of approved ship recycling facilities is the first of its kind and an important reference point for sustainable ship recycling. More ships need to be diverted towards these sites, adds Shipbreaking Platform.
*The data gathered by the NGO Shipbreaking Platform is sourced from different outlets and stakeholders and is cross-checked whenever possible. The data upon which this information is based is correct to the best of the Platform's knowledge, and the Platform takes no responsibility for the accuracy of the information provided. The Platform will correct or complete data if any inaccuracy is signaled. All data which has been provided is publicly available and does not reveal any confidential business information.
Source: Mfame Team, February 1, 2019.
Euroshore comments
2/3 of the world's merchant end-of-life ships are currently sold for breaking on beaches. Beaching operations originally arose as a result of convenience and expediency, not because they were the most efficient method, safer, or more environmentally sound. Beaches were un-owned, coastal zone management laws were non-existent, and there was no need to provide infrastructure to start a business using cheap and replaceable labour.
Sound ship recycling contrasts strongly with today's ship breaking practices. The switch to sustainable ship recycling will require ship owners to sell their ships to yards that invest in the safety and environmental standard of their operations. Guaranteeing workers' rights is critcal. Moving shipbreaking off beaches and onto dry-docks and quaysides in regions with capacity to store and treat oily and hazardous waste is another essential step. Due diligence when choosing business partners is crucial – and transparency, government oversight, enforcement, positive incentives, independent auditing, and corporate accountability are necessary tools to achieve sustainable ship recycling.
The technology to break ships on stable and contained platforms is readily available. Responsible ship owners will recycle ships only at EU approved yards. Essential requirements of the yards on the EU list? Being backed by the only global independent audit of ship recycling facilities, protecting fundamental labour rights, and providing treatment of hazardous or oily waste. Read more in Euroshore's position paper on environmental ship dismantling.
Workers dismantle India's first war ship Vikrant at a ship breaking yard in South Mumbai – Source: Mfame Team, February 1, 2019.