By Stelios Karampelas, Environmental Scientist MSc, Antipollution, Greece
I am delighted to be given the opportunity to write some thoughts on my participation in the 3rd African Ports Environment & Sustainability Conference as a member of the Euroshore delegation in February 2020. The Conference took place in Pointe Noire, Republic of Congo, where I had the pleasure and honor to meet and cooperate with executive members of Euroshore, to participate in interesting conversations over sustainable development and to share useful information regarding the company I represented, Antipollution S.A., as Head of Port Reception Facilities Department.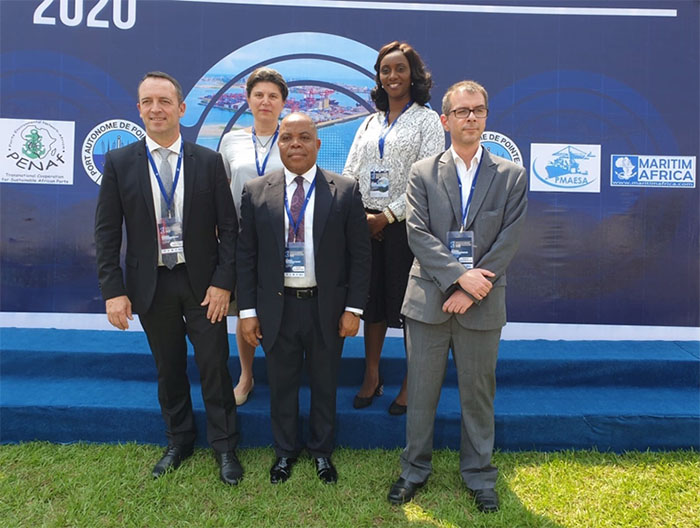 The Euroshore delegation from left to right: Carlos Cardoso, Chairman, Sophie Delair, Secretary General, Olajide Oluwayemi, Regional Manager African Circle, Deborah David, Finance Manager African Circle, Stelios Karampelas, Environmental Scientist MSc Antipollution
Moreover, the overall experience proved extremely educating. The interaction between all parties, the communication among companies with similar activities, the gained knowledge from the current reality of Port Authorities concerning environmental issues expanded my knowledge and will certainly come useful in future endeavors. I was honored to be given some valuable minutes during the first day of the Conference, in order to share my experience upon the implementation of PRF. I had personal conversations as well as exchange of thoughts with highly esteemed personnel from all sectors (private contractors, Port Authorities, Ministers).
Antipollution S.A. is a member of Euroshore for about 15 years and has gained significant benefits in terms of experience and know-how, exchange of information and updating on current developments, procedures and international standards. Through its partnership with Euroshore over the years, the company has participated in interesting conferences, meetings and fora where scientists and professionals with extensive experience and knowledge in the area of ships waste management exchanged useful and constructive views related to the services provided by the company in the major ports of Greece.
At this point, I would like to briefly introduce our company, which is the biggest one operating in Greece and one of the biggest in Mediterranean region, offering Port Reception Facilities in Piraeus Port and all major ports of Greece. Additionally, ANTIPOLLUTION S.A.. provides immediate, effective and efficient solutions and services concerning Emergency Response, globally. Embodying an experience of almost 70 years, we are proud to stand amongst the few companies having served the shipping industry at this extent. Being unease and with focus on international developments in environmental sector, we expanded further, in order to be able to provide integrated environmental services, protecting sea and land from environmental hazards.
Overall, the experience of participating in 3rd African Ports Environment & Sustainability Conference has been fruitful as well as positive and I sincerely hope that in the near future more opportunities to be part of important events as member of Euroshore delegation will come