On 1st January 2020 VEOLIA UK joined Euroshore, which gather now 35 Member company in 16 countries. We are delighted to welcome them within the Euroshore family and met his representative Neil Holland, Business Manager - Marchwood Hazardous Waste Treatment Facility, for short introductory questions. A few more on a short film here.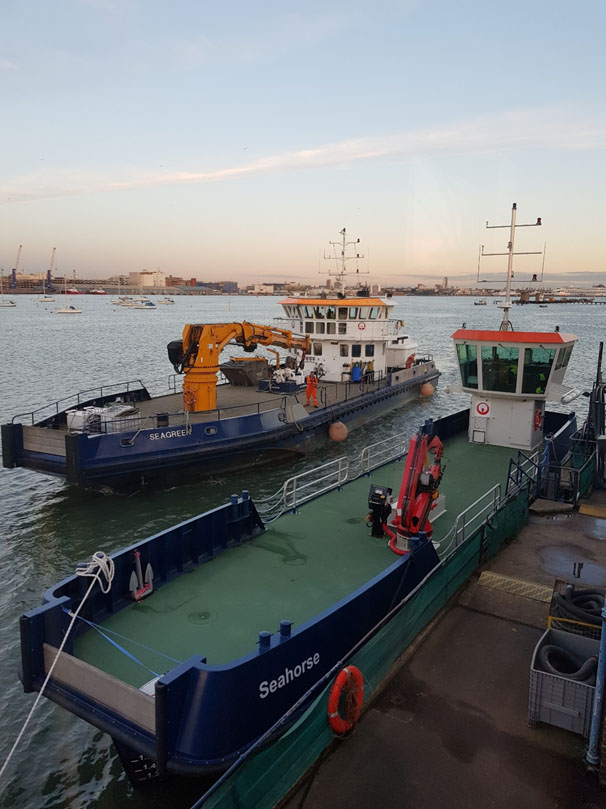 VEOLA UK barges, Marchwood, Southampton
Euroshore: Neil, you recently decided to join Euroshore. Could you introduce Veolia UK and yourself to the readers?
Veolia UK: The UK leader in environmental solutions, Veolia provides a comprehensive range of waste, water and energy management services designed to build the circular economy and preserve scarce raw materials.

We're innovators committed to focusing on carbon reduction by preventing pollution, preserving natural resources, protecting biodiversity, combating climate change and raising environmental awareness. From transforming sludge into plastic, recovering palladium from street sweepings and future-gazing with our 'Imagine 2050' report we are turning the once 'traditional' waste, water and energy management industry on its head.
Euroshore: Nowadays, there are many associations around. What are your expectations in joining Euroshore?
Veolia UK: "Veolia UK have joined Euroshore in order to continue providing the best Marpol solutions for UK shipping in the port of Southampton. With ever changing Marine Regulations and requirements, Euroshore will assist us with ensuring we continue to deliver a world class service."
Euroshore: Euroshore acts as a European association and more and more as an International association. Do you think it is important to belong to a larger community? Why?
Veolia: "Veolia UK believe an additional benefit of membership to an International Association is a greater insight into Marpol challenges globally. Understanding the challenges our customers face globally can help us tailor our service to suit their requirements in Southampton."