By Jean-Marie Koffi, Secretary General of PMAWCA
29th January 2021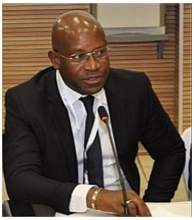 Institutional reform in most African ports aimed at modernising and improving their operational efficiency is beginning to bear fruit with increasing vessel traffic. This is good news for the ports, as it is improving productivity. Nonetheless, this positive development has negative environmental implications, particularly with wastes generated by vessels calling the ports.
Ports are therefore having to ensure the availability of adequate port reception facilities as obliged by International Maritime Organisation's MARPOL 73/78 Convention. Ports are making some effort to implement the MARPOL Convention, but the challenge however has been that, most of them are lacking the capacity (human, financial, technological, infrastructure, and knowledge) to meet this international obligation.
Furthermore, the implementation efforts are mostly fragmented with different ports doing things differently with little recourse to the spirit and letter of MARPOL 73/78 Convention.
The implementation challenge is a common one for the ports and therefore a harmonised approach, consistent with international best practices is the way to go.
In this regard, the Port Management Association for West and Central Africa (PMAWCA), which is the regional umbrella organisation for port authorities in West and Central Africa, is beginning to support its member ports to strengthen their implementation capacity through international cooperation. This is being facilitated by Euroshore in collaboration with Ports Environmental Network-Africa (PENAf), a transnational organisation with interest in the sustainable development of African ports.
The international cooperation is aimed at bringing together port reception facility providers in West and Central African ports to form an 'Africa Cluster' under Euroshore's umbrella. This is to enable the African providers work cooperatively with their international counterparts.
The successful organisation of the first webinar hosted by Euroshore to introduce the establishment of the 'African Cluster' and the interest expressed by participants point to the potential benefits of the intended international cooperation. The cooperation has the prospect of bringing to bear Euroshore's competence and expertise in handling ships' waste internationally, and PENAf's in-depth knowledge and understanding of the situational context of Africa's institutional and policy-making arrangements to support the strengthening of MARPOL implementation in African ports.
Potential Benefits for Africa
The potential benefits of the international cooperation, particularly for member ports of the Port Management Association for West and Central Africa (PMAWCA), are numerous including:
Promoting global standards and practices for efficient implementation and compliance of MARPOL 73/78 Convention
Sharing knowledge, technology, information, solutions and international best practices
Harmonising port reception facilities policy for African ports
Meeting the needs of vessels calling African ports
Ensuring disincentive for dumping of wastes by ships
Contributing to SDG 14 by improving marine life
Allowing for ultimate disposal of ships' waste in an environmentally appropriate way
Building a network of coordinated action for port reception facilities
The cooperation with West and Central Africa, which is anticipated to be eventually extended Eastern and Southern Africa and North Africa, meets EUROSHORE INTERNATIONAL's commitments to gather port reception facilities from all continents. Indeed, we all have the same objective to be the environmental right arm of IMO for an effective implementation of the MARPOL Convention. Our daily business is to prevent oceans from any pollution.