Lee Hong Liang, Seatrade Maritime 18 June 2019
Titan LNG announced that its new LNG bunker barge has completed its first bunkering operation in Rotterdam port, and the Dutch firm is already working on getting in two more identical barges to operate in the ARA (Amsterdam-Rotterdam-Antwerp) region.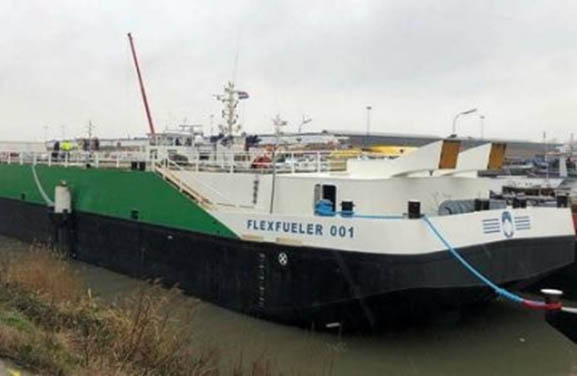 Titan LNG's long term customer Norlines received the LNG cargo in otterdam, making Titan LNG the first accredited LNG bunker supplier able to deliver by inland water barge.
Samskip, operator of the LNG-powered Norlines vessels, the roros Kvitnos and Kvitbjorn, has a weekly service into Rotterdam and requires a reliable supply of LNG bunkers.
Ronald van Selm, coo at Titan LNG, said: "We are proud the FlexFueler001 is up and running after she successfully completed her trials. We can now offer safe, reliable and efficient bunkering that resembles conventional bunkering and are ready to serve more LNG powered vessels in the ports of Amsterdam, Rotterdam and Antwerp."
The LNG bunker pontoon, the 1,480 cu m FlexFueler001, has a bunkering capacity of 30-600 cu m per hour and has the flexibility to load LNG from terminals, in ship-to-ship operations from other vessels, and through truck transfers.
The identical FlexFueler002 pontoon is on track to be commissioned in Antwerp in mid-2020, and a third barge will be announced in the coming months.
Paul Wielaars, trade manager West Coast Norway, said: "We focus on economical, efficient, reliable and environmentally friendly transport. That's why we are happy with our partner Titan LNG. We're excited to bunker LNG alongside the terminal. This saves us time as we are no longer dependent on truck to ship operations. Bunkering at the same time as cargo operations take place, can save us up to eight hours."