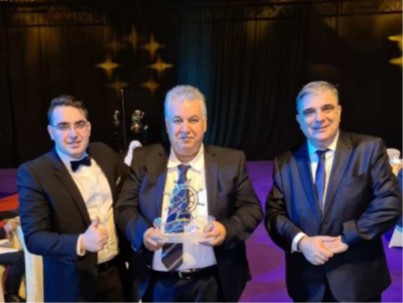 From left to right: Dimitrios Michalopoulos, Marketing Executive; Abdalla El Suleiman,
Environmental Services Manager; Michalis Psaromichalakis, Research & Development Manager
FAIRDEAL is proud to announce that they are the winners of the 2020 Maritime Standard, Environment Protection Award.
TMSA are among the most prestigious internationally recognized Awards where all the major shipowners, operators and maritime stakeholders from across the Middle East Gulf region are represented.
Established in UAE since 1985, and member of EUROSHORE since 2020, FAIRDEAL has been one of the first maritime companies solely dedicated to the protection of the marine environment. FAIRDEAL pioneered in the development of offshore floating facilities, to handle in a safe and eco-friendly way the MARPOL 73/78 ANNEX I disposal requirements.
Today, FAIRDEAL MARINE SERVICES environmental division, continues its specialist leadership by providing training, preventive and remedial services to manage oil and oily water related liquids together with an approved Hazardous and Noxious Substances (HNS) handling capacity. Offshore Fujairah, floating storage and separation facilities, daily handle large volumes of ANNEX I oil tanker cargo tank washings (slops). The FAIRDEAL OIL SPILL RESPONSE CENTRE (OSRC), forms an integrated operation with logistics supported through a dedicated experienced team of skilled engineers and technicians that provide a unique regional environmental protection capability.
FAIRDEAL's environmental services are based on innovative methods approved by international classification societies and organizations, that assure no pollution or depletion of resources.
The FAIRDEAL Research & Development team is constantly exploring new technologies to improve the eco-friendly material collection and handling operation, and are preparing to introduce the Geochemical Active Clay Sediment (GACS) technology in the Gulf region. This is an innovative, very efficient and cost-effective waste treatment technology. The first plant in the region, able to treat waste of oily sludge and sludge deriving from scrubbers, based on the stricter provisions of the revised MARPOL ANNEX VI, is currently being developed.